Brett Aune: A Tale of Two Cities
By Emily Whalen, Curious Content Team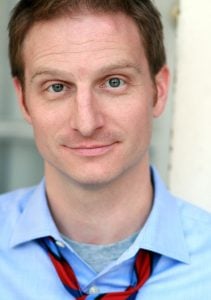 For all intents and purposes, Brett Aune's life is in Los Angeles. The Constellations actor spends the majority of his year there, residing with his girlfriend of 8 years, Sammy, and running his own company aiding Chiropractors. However, Brett's passion for theatre and acting lives here in Denver.
Over the last few years, he has been traveling home to Denver to do shows on a regular basis. He came back for Curious Theatre Company's Venus in Fur in 2014 and again this year for Constellations. He has also been brought back to town to work on a play from Colorado's own John Moore and to direct a show at the Arvada Center. Splitting his time between the two cities has allowed Brett to truly appreciate the Denver theatre community.
Like many of Denver's actors, Brett recognized that though the Denver community is rich with wonderful theatres, talented and dedicated people, and myriad opportunity, it also has a ceiling. The reality is that Broadway is still Broadway, and Hollywood is still Hollywood and neither is very accessible from Denver.
Brett moved out to LA about ten years ago and did some acting in LA though he says it has waned in the last few years. He worked in the theatre community in LA, but he found he soured on that as well. "In Los Angeles, there is always another rung on the ladder and there is always someplace to go," Brett says. Actors don't go to LA to do theatre, they go to be on film. Oftentimes actors commit to plays in the Los Angeles theatre scene only to back out of the show later because they booked a commercial or a few lines on a television show or in a movie. Those that do stay on with a play aren't there for the love of theatre either; instead, they are hoping that someone's agent or casting director friend will see the show, so they too can climb to the next rung of the ladder.
"What I used to knock Denver for is actually its biggest asset," Brett continues, "People are dedicated to what they are doing." The Denver theatre community does theatre for the love of the art, not to climb the ladder to the next rung. That entirely changed Brett's perception. When speaking about his transition to LA he says "I found what I needed to find and I learned about what it is that I want to be doing. The simple truth is: this building, what's going on right now, is pretty much what I want to be doing."
Working in Denver has also been helpful to Brett and his family. He grew up here in the metro area, and his parents still remain. Coming to town so often allows him to celebrate birthdays and holidays with his parents and friends, as well as aid in caring for his father who has been diagnosed with Alzheimer's. "I feel really, really fortunate to have a life out there and a life here as well," he says. He also admits that it can be "schizophrenic," leading both lives.
Brett says it's always difficult to pack up the car and drive away to another life. But, maybe one day he will be home in Denver permanently. For now, he will keep one foot in the Denver theatre community. Brett says he hopes to come back to Curious often as he loves the company, the building, and the vibe.